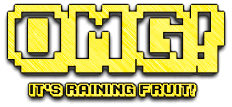 OMG! Raining Fruit!
OMG! Raining Fruit! is a Retro Inspired Game made for OMG Jam 4!
Dodge Fruit and Other Objects raining from the sky and survive as long as possible!
Make it to the top of the level for a Double Jump Power-Up to be more cautious of raining objects!
Features :
2 Player Local Multiplayer
Local High Score System
It's Raining Fruit! Hallelujah!
Install instructions
If you're interested in downloading a standalone version of OMGRF then download the game and run the executable named NW.
Download